---
Sort by:
Top sellers
New
Price ascending
Price descending
Filter
---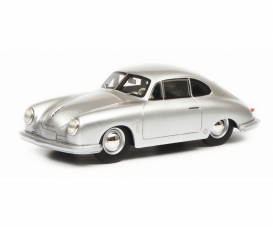 PRO.R 18
Porsche 356 Gmünd Coupé, silver, 1:18
€159.00
After the first Porsche sports car, the so-called Porsche No. 1, was individually licensed for road traffic as early as the 8th of June 1948, in March 1949, Porsche presented its first production sports car at the Geneva Salon de l'Auto, the legendary Porsche 356. Using classical tuning techniques, such as modified cylinder heads and twin carburettors, on the 4-cylinder boxer engine taken over from the VW Beetle, the engine power of the first Porsche 356 could be increased to a respectable 40 hp. Between 1949 and 1950, a total of 44 coupé and 8 convertible versions of the so-called "Gmünd Porsche 356" were entirely hand-built. In 1950, Porsche moved back to its main factory in Stuttgart-Zuffenhausen in which, by the end of production of the type 365 in April 1965, slightly over 76,000 of this sports car icon were produced. Schuco is going to produce in a limited edition of 500 pieces a miniature model of this legendary Porsche 356 Gmünd Coupé to a scale of 1:18 in the PRO R line. This line, consisting of resin as the material, stands for exceptional and highly filigree small series models. By means of this highgrade model material, it is possible to produce very rare and exotic exemplary vehicles in perfect quality and also in low and exclusive production runs.   Warning! Not suitable for children under 14 years.
More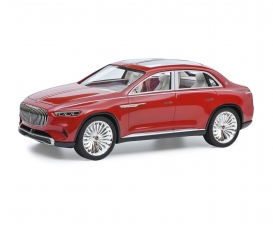 PRO.R 18
Mercedes-Maybach U. L. 1:18
currently not in stock out of stock
"Vision Mercedes-Maybach Ultimate Luxury – Exclusive motoring at the highest level" This is the slogan used by Mercedes-Benz to describe the crossover based on an exclusive high-end saloon and a SUV, which was presented at "Auto China 2018". The show car combines the comfort and typical strengths of both body styles. The Vision Mercedes-Maybach Ultimate Luxury is conceived as an electric vehicle with four compact permanent-magnet synchronous electric motors and a fully variable all-wheel drive. The concept car has a maximum output of 550 kW / 750 hp, which provides a top of speed of 250 km/h. The rechargeable battery in the underbody has a capacity of 80 kWh and delivers a range of up to 500 kilometres.
More