---
Sort by:
Top sellers
New
Price ascending
Price descending
Filter
---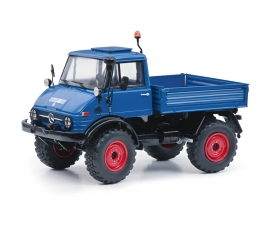 1:18 Edition
Unimog 406 closed cab 1:18
450044400
€109.00
When one talks nowadays about legendary cars such as the VW Beetle, classic Mini, VW Bulli or Porsche 911, any such list should always include the Unimog from Mercedes-Benz. Within Unimog's long history, the Mercedes-Benz U 406 represents the classical Unimog for many fans and is now being honoured with a finely detailed Schuco metal model in a collector's scale of 1:18.   Warning! Not suitable for children under 14 years.
More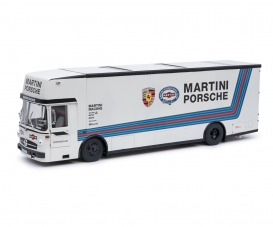 1:18 Edition
MB Race Trans. MARTINI 1:18
450032400
available from September
In the early days of motor sport, from the beginning of the 20th century to well into the 1930's, the majority of souped-up racing cars were still transported on their own four wheels from the factories to the famous racetracks of Le Mans, Monza, the Nürburgring or the infamous Targa Florio in Sicily. As the sport began to become professionalised, from about the middle of the 1930's, the development of special transport vehicles, the so-called racing transporters, began. In the mid-1960's, Porsche too had two transport vehicles based on the Mercedes-Benz O317 bus chassis built specifically for the needs of its racing division. The two racing transporters were used by the Porsche racing division until the 1980's and, over the years, were also adapted several times to the design of the corresponding major sponsor. Due to their really quite box-like design, the Porsche racing transporters were soon somewhat mockingly called "furniture vans". The white painted transporter of the MARTINI Porsche racing team on which our finely detailed Schuco model is based was used from the mid-seventies onwards and replaced its silvercoloured MARTINI Racing predecessor.   Warning! Not suitable for children under 14 years.
More