---
Sort by:
Top sellers
New
Price ascending
Price descending
Filter
---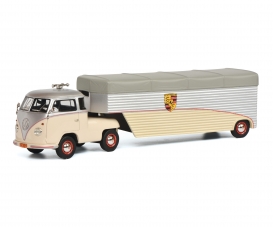 Categories
VW T1 Continental Motors 1:43
€109.00
Under the motto "Race on Sunday - Sell on Monday", numerous so-called "Club Races" took place in the USA in the 1950s and enjoyed great popularity among those actively involved as well as spectators. In these races, motor-sport-enthused private drivers were able to probe their driving skills and simultaneously push their mainly production-line sports cars to the limit, legally. The corresponding vehicle dealers also put on suitable transport vehicles in support of their customers' vehicles at race tracks like Laguna Seca, Eagle Mountain or Elkhart Lake. For example, Volkswagen and Porsche dealer "Continental Motors" of Fort Lauderdale in Florida operated an elegant and remarkable vehicle-trailer combination, consisting of an original VW T1 tractor unit and the associated trailer. Thus vehicles such as the Porsche 550 Spyder or the Porsche 718 Spyder were able to be transported.   Warning! Not suitable for children under 14 years.
More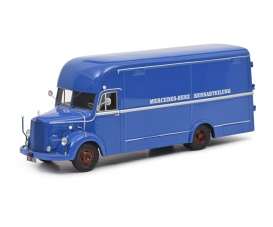 PRO.R 43
MB O3500 Rennabteilung 1:43
€129.00
As of the Carrera Panamericana in 1952, Mercedes-Benz started to take part again in international racing events. In 1954, the Stuttgart-based company then re-entered the Grand Prix circus and was successful at its very first start at the French Grand Prix with a one-two victory by Juan Manuel Fangio and Karl Kling. In order to be able to transport the W196 and 300 SLR racing cars to the respective race tracks — along with the Mercedes-Benz racing division's huge amount of equipment — a large racing division fleet was maintained. One of these special vehicles was the Mercedes-Benz O3500 on the basis of the O3500 omnibus, on which our Schuco model, at a scale of 1:43, is derived. No less than three examples of this vehicle belonged to the racing division.   Warning! Not suitable for children under 14 years.
More