---
Sort by:
Top sellers
New
Price ascending
Price descending
Filter
---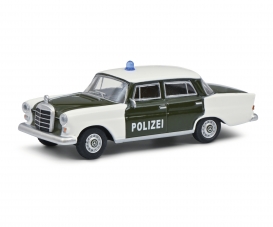 1:64 Edition
MB 200 POLIZEI 1:64
452027800
As a successor to the famous Ponton Mercedes, the W120, Mercedes-Benz introduced in 1961 the W110 series, also known as the "little tail fin". With the so-called "tail fin" design feature, the Mercedes-Benz design department, previously known for its conservatism, made a concession to the American automobile design prevailing at the time. Mercedes, however, called them "Peilstege", as they clearly marked the end of the vehicle when reverse parking.
1:32 Edition
Fuchs excavator 301 1:32
450776800
Fuchs was founded by the blacksmith Johannes Fuchs in 1888 To begin with, the company specialized in the production of agricultural machines and barn equipment. After the end of the Second World War, Fuchs started to manufacture excavators and cranes at its factory in Ditzingen in response to the huge demand for such machines created by postwar reconstruction efforts. Over 15,000 Fuchs Bagger 301 vehicles were produced following the start of production in 1957. Today, the company belongs to the American TEREX group. This intricately detailed Schuco metal model of the Fuchs Bagger 301 features a lattice boom as well as an interchangeable bucket grab and wrecking ball.