---
Sort by:
Top sellers
New
Price ascending
Price descending
Filter
---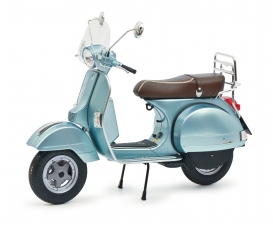 1:10 Edition
PX 125 70 YEARS blue met.1:10
€79.99
"Developed as an inexpensive means of transport for post-war Italy, the "Vespa" is now one of the style icons of our mobile world. After the "original type" of all Vespas, the Vespa 98, was presented to the public for the first time in Rome in 1946, the term "Vespa" quickly became synonymous with the motor scooter par excellence. The Vespa PX, presented in Milan in 1977, still had the most important features of the original Vespa from 1946, even after 30 years of Vespa development history. For Piaggio, this was one more reason to launch two special models based on the Vespa PX to mark the 70th anniversary of the Vespa. Thus, in the anniversary year 2016, the legendary Vespa PX appeared as PX 125 and PX 150 Settantesimo in the special colors Azzuro 70 and Grigio 70, created especially for this occasion."
More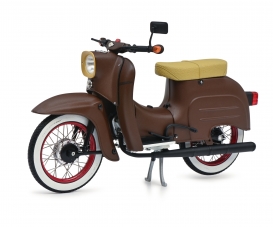 1:10 Edition
Simson KR51/1 CUSTOM II 1:10
€79.99
"More and more, the Simson Schwalbe has become a popular customizing vehicle in recent years. A huge scene has developed around the conversion of the cult moped for conversions and corresponding accessories. Schuco is now also taking this development into account and is bringing the second "pimped" Schwalbe onto the market with the Simson Schwalbe Custom II. Painted in noble brown metallic, only 1000 copies of this "hot" Schwalbe."
More