---
Sort by:
Top sellers
New
Price ascending
Price descending
Filter
---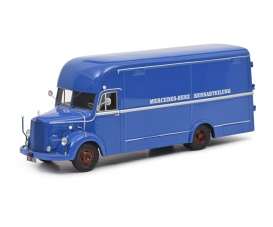 PRO.R 43
MB O3500 Rennabteilung 1:43
€129.00
As of the Carrera Panamericana in 1952, Mercedes-Benz started to take part again in international racing events. In 1954, the Stuttgart-based company then re-entered the Grand Prix circus and was successful at its very first start at the French Grand Prix with a one-two victory by Juan Manuel Fangio and Karl Kling. In order to be able to transport the W196 and 300 SLR racing cars to the respective race tracks — along with the Mercedes-Benz racing division's huge amount of equipment — a large racing division fleet was maintained. One of these special vehicles was the Mercedes-Benz O3500 on the basis of the O3500 omnibus, on which our Schuco model, at a scale of 1:43, is derived. No less than three examples of this vehicle belonged to the racing division.   Warning! Not suitable for children under 14 years.
More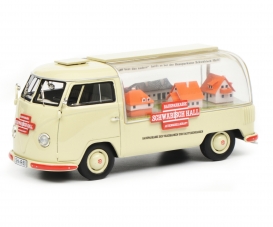 PRO.R 43
VW T1a "Schwäbisch Hall", 1:43
currently not in stock out of stock
When, in the early days of the German economic miracle, the demand and the need for a multi-purpose small transport vehicle was growing ever greater, Volkswagen, with its VW Transporter, had just the right vehicle on offer. Available in the body variants of delivery van, bus, flat-bed truck and Samba microbus, the VW T1, lovingly known in Germany as the "Bulli", was the ideal vehicle for a wide customer-base. After successful advertising, even as early as the 50s based on widespread closeness to the customer, inventive advertisers very soon found the T1, ever-present in the traffic at the time, to be an ideal mobile advertising platform that, because of its unmistakable design, also came across as a good friend. From the mid-50s, the most attractive and creative advertising T1s were those operated by the Schwäbisch Hall Building Society. Under a wind and weather-proof Perspex dome, a miniaturised new housing estate was presented to future savers and builders. 15 of these eye-catching advertising vehicles were in use throughout Germany on behalf of Schwäbisch Hall until well into the 60s and, whether in the daily traffic or in front of many bank branches, they made everyone aware of the building society idea and the slogan "A house builds something else". Schuco is going to produce a miniature model of this legendary VW T1a "Schwäbisch Hall" to a scale of 1:43 in the PRO R line. This line, consisting of resin as the material, stands for exceptional and highly filigree small series models. By means of this highgrade model material, it is possible to produce very rare and exotic exemplary vehicles in perfect quality and also in low and exclusive production runs.   Warning! Not suitable for children under 14 years.
More