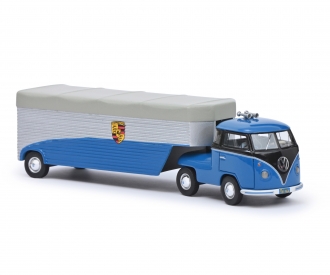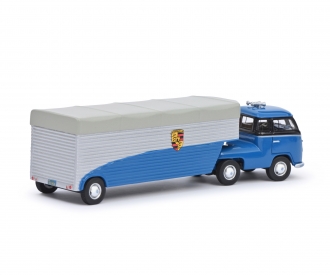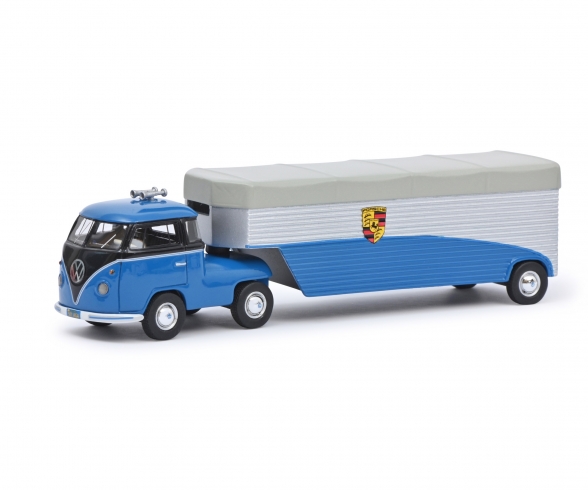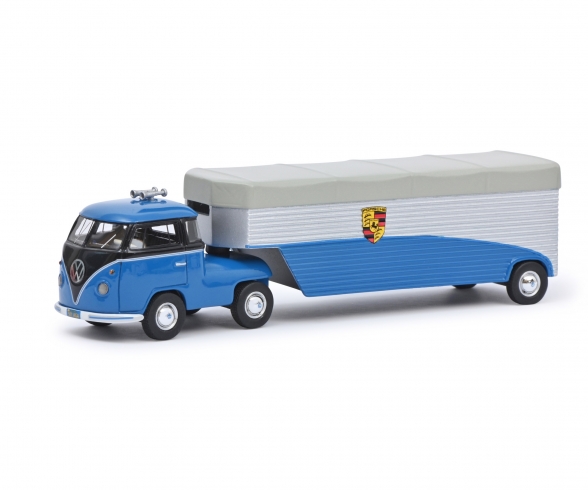 €79.99
incl. VAT
free shipping
(within the EU)
Quantity:
1
2
3
4
5
6
7
8
9
10
11
12
13
14
15
16
17
18
19
20
21
22
23
24
25
26
27
28
29
30
Delivery time 1-3 working days within Germany
Under the motto "Race on Sunday - Sell on Monday", numerous so-called "Club Races" took place in the USA in the 1950s and enjoyed great popularity among those actively involved as well as spectators. In these races, motor-sportenthused private drivers were able to probe their driving skills and simultaneously push their mainly production-line sports cars to the limit, legally. The corresponding vehicle dealers also put on suitable transport vehicles in support of their customers' vehicles at race tracks like Laguna Seca, Eagle Mountain or Elkhart Lake. For example, Volkswagen and Porsche dealer "Continental Motors" of Fort Lauderdale in Florida operated an elegant and remarkable vehicle-trailer combination, consisting of an original VW T1 tractor unit and the associated trailer. Thus vehicles such as the Porsche 550 Spyder or the Porsche 718 Spyder were able to be transported.
Warning! Collector model not suitable for children under the age of 14 years, contains small parts. Keep this address in case of need.
Frequently bought together
Frequently bought together